Taida Motor Part Co., Ltd.--Motorcycle customizing parts, motorcycle performance tuning parts etc.
- 2010/12/16 -
Founded in 1993, Taida Motor Part Co., Ltd. is a specialized and experienced developer and manufacturer of performance-tuning parts and accessories for motorcycles and scooters.

The company offers a wide range of product lines, including performance fittings, oil-cooling kits (with oil drain parts), connectors, cylinder heads, cylinder gaskets, oil-temperature gauges, etc. All of the company's products are meticulously fabricated to ensure highest compatibility and easy installation. The firm is capable of developing products for all major powered two-wheeler (PTW) brands worldwide.

Taida claims that its core competitiveness lies in highly-compatible accessories featuring easy and quick installation for both professional and DIY applications; continual product improvement and innovation; and excellent compatibility of fittings that helps to boost engine power.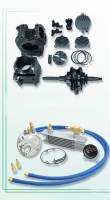 Taida Motor Part Co., Ltd.
No. 358, Hanhsi St., E. Dist., Taichung City 401, Taiwan
Tel: 886-4-2213-6599
Fax: 886-4-2213-1777
E-Mail: td87185162@yahoo.com.tw
Website: www.td-motor.com
www.td-motor.com.tw